2000 La Concepción, Nicaragua
La Concepción, Nicaragua 2000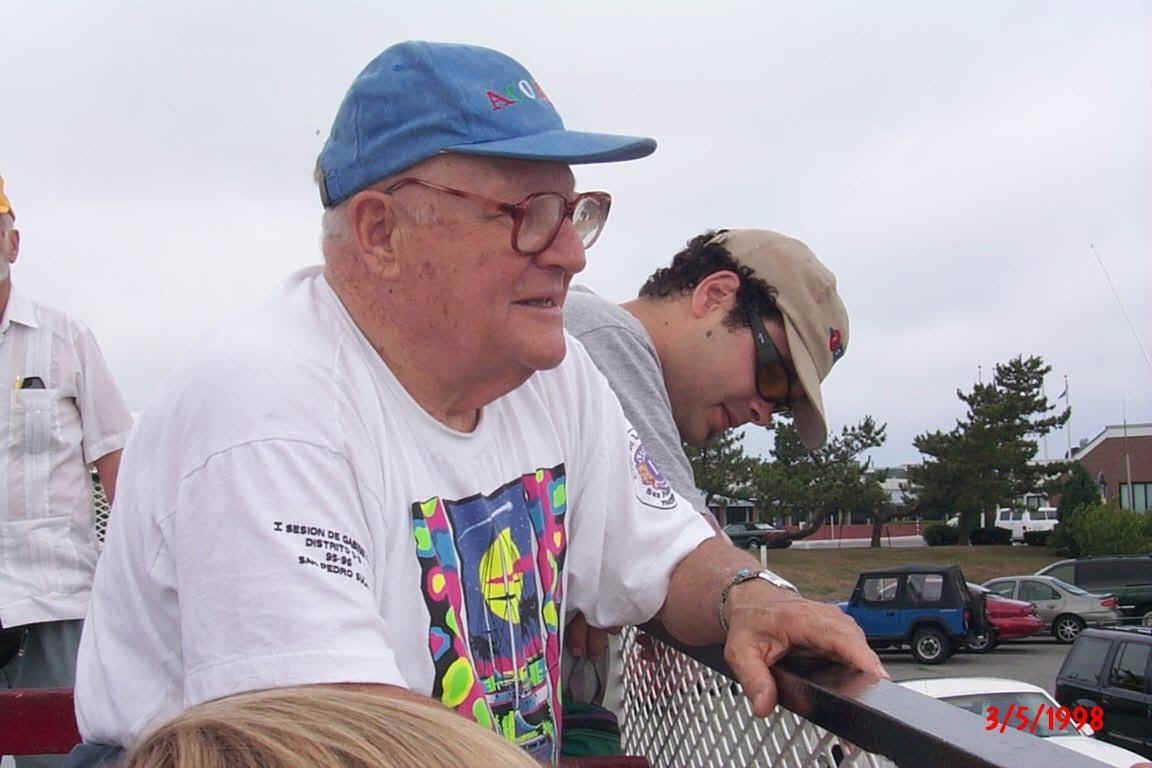 Bob Schwartz Memorial Mission to La Concha, La Concepción, Nicaragua.
January 16 - 20, 2000
Northeast VOSH, formerly Maryland VOSH was founded by Dr. Bob Schwartz, OD of Annapolis, MD in 1986. The January 2000 Mission to La Concepción, Nicaragua was dedicated to his memory.
"I'd like to quickly summarize what we did do this whole week the best we can, and this is a pretty good estimate of what we accomplished. 2,580 eye examinations over 4 days. Of those people, 1977 received glasses right on the premises, about 601 did not need glasses. 20 of those people received cataract surgery. And of all the people we saw, only 4 prescriptions are going to have to be made back in the United States. We just got updated, six. At the wheelchair clinic, 14 wheelchairs were given out. Six of them were repaired on the premises, and orders were taken for an additional 4 which we are going to be shipping down in the near future."
–Carl Sakovits
La Concepción is a "state" or more properly a department within Nicaragua. This region, la Concepción, is known for it's fruit and bread. Unfortunately, it is not known for being an area where all the people are free of need. More than three thousand of the people of La Concepción converged upon the town of La Concha to receive inexpensive optical and medical assistance. Here they were met by a motivated and determined group of Optometrists, Optometry students, Opticians, Medical Doctors, Registered Nurses, Physician's Assistants and laypeople. This mission was the first Northeast VOSH trip to include an Ophthalmologist among it's medical doctors. Dr. Steve Grimes utilized the local hospital to complete 20 cataract surgeries.
The Providence Journal ran a story about some of our doctors from the Providence, RI area. We have it for you here.
Waiting Patiently / Mission Site
The lines outside the building were very long this year, especially on the last day. The people who made it to the optical dispensary on the last day at 1 in the afternoon had been waiting outside the schoolhouse turned clinic since 2 a.m. that morning. This meant that there were people who arrived late on the last day who were not able to be seen. It was impossible to get the entire line in one picture on the last day, as it went both ways down the sidewalk, and wrapped around two corners. Large as this crowd was, they remained very orderly, not stepping on the grass that the school had planted, nor standing in the sidewalk, left open for pedestrians.
Registration
It is the job of the registration team to get the big picture in broad strokes. Translators work with each registrar to see to it that information is correct and complete. Optical history is noted and any troubles the patient currently experiences are written.
Hallway Traffic Management
Keeping a mission running smoothly is often largely a factor of making sure that patients know where to go next and how to find the end of the line at each station. This is where the vital role of Hallway Traffic Manager comes in. Directing patients to the next available chair-in-line were Captain Walter Jacobs, and Jim Gatto.
Visual Acuity / Screening
Visual Acuity makes the preliminary judgment of a person's optical state of health. They work hard to give the Optometrists and optical students the best information possible. The spoon you'll see utilized in some of these images is an occluder, used to limit vision to one eye at a time for testing. The technicians staffing the visual screening facility utilize charts with letters when possible. They may revert to number only charts, picture charts, or which-way is-the-object pointing charts as necessary.
Eye Exam
Optometrists and Optometric Students, primarily from the School of Optometry at the State University of New York filled three classrooms of the school. Each brought with them a portable examination kit including test lenses, scopes, charts and the like. Working in straight backed classroom chairs and from low height tables, the optometrists saw 2,580 patients in four days. Many pathologies are seen, and the doctors learn every day from their experience.
Cataract Surgery
For the first time, Northeast VOSH welcomed an ophthalmologist on a mission. The addition of a surgical cataract solution to the list of VOSH capabilities is truly wonderful and greatly appreciated. Most appreciative indeed were the twenty residents of la Concepción who received the vision-restoring procedure. Dr. Steve Grimes worked at the local hospital in Masaya, at a pace somewhat slower than that possible at a more modern facility.
Dispensary
The dispensary is the final stop for optical patients. Here they will receive their new glasses, hand selected from a library in excess of 10,000 pair of glasses. This year the crew dispensed glasses to 1977 patients. Larry Ulm and Marty Fair manage the fleet of opticians and technicians who are committed to getting the best possible lenses, and a comfortable fit with the corrective power of the lenses placed properly. Each year the dispensary staff consider themselves lucky to be able to witness so many people receiving the gift of sight, and consider it an honor. Of course the dispensary relies heavily upon the library of donated glasses that are pre-sorted by power. This library of approximately 10,000 pair of glasses is assembled annually at Larry Ulm's tree farm in Hyndman, PA. Glasses donated from organizations such as the Lion's club are selected for power and usability. Using data from previous missions as a guide, an appropriate mix of prescriptions is boxed up and sent safely ahead of the mission. Prescriptions which are ultimately unable to be filled on site are taken back to the States after the mission. This year, Marty Fair coordinated donations of frames and lenses from Precision to fabricate the necessary eyewear. These eyeglasses are being taken back to Concepcion.
Medical History / Screening
Skilled linguists are utilized to get the best information about past illnesses, and any issues presently concerning patients. This year the screening was set up outside, under a shade tree.
General Medical Exam
Stu Zipper, MD, heads the corps of medical examiners for Northeast VOSH. The medical department began 5 missions ago in Jutiapa, Honduras, with just one person, Stu, and grew to two the following year when Lee Arnold, PA, joined him in Agua Azul, Honduras. This year's medical team consisted of 3 docs, 2 physician assistants, 1 nurse practitioner, 1 medical assistant, and 5 nurses. In addition, 2 Nicaraguan physicians and 2 Nica nurses worked side-by-side with the American contingent. The team lugged down and dispensed approximately 500 pounds of pharmaceuticals valued in excess of $10000!!! Over the years, the medical team has provided free medical care and medications to thousands of the neediest in Honduras and Nicaragua.
Pharmacy
Coordinating the best stocked pharmacy on a Northeast VOSH mission is no small task, but our cadre of bandana wearing pharmacists were up to it. Many thanks go out to the individuals and organizations who donated for this mission. Northeast VOSH was able to give out over $10,000 worth of pharmaceutical products to those who could really use them.
Wheelchairs and Prosthetics
At the wheelchair clinic, 14 wheelchairs were given out by Al Amerigan. Six of them were repaired on the premises, and orders were taken for an additional 4 which we are going to be shipping down in the near future.