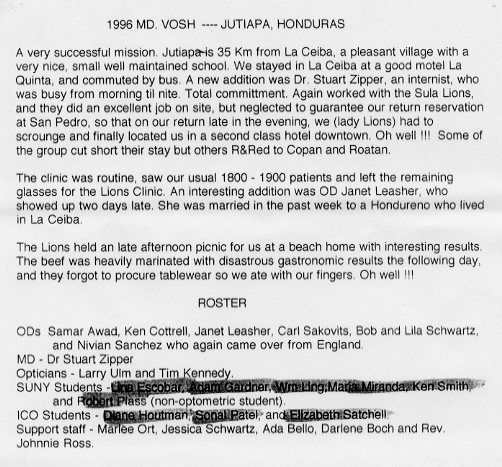 January 1996 Jutiapa, Honduras. Written by Robert Schwartz, OD
A very successful mission. Jutiapa is 35 Km from La Ceiba, a pleasant village with a very nice, small well maintained school. We stayed in La Ceiba at a good motel La Quinta, and commuted by bus. A new addition was Dr. Stuart Zipper, and internist, who was busy from morning until night. Total commitment. Again worked with the Sula Lions, and they did and excellent job on site, but neglected to guarantee our return reservation at San Pedro, so that on our return late in the evening, (lady Lions) had to scrounge and finally located us in a second class hotel downtown. Oh well!! Some of the group cut short their stay but others R&R'ed to Copan and Roatan.
The clinic was routine, saw our usual 1800 - 1900 patients and left the remaining glasses for the Lions Clinic. An interesting addition was OD Janet Leasher, who showed up two days late. She was married in the past week to a Hondureno who lived in La Ceiba.
The Lions held a late afternoon picnic for us at a beach home with interesting results. The beef was heavily marinated with disastrous gastronomic results the following day, and they forgot to procure table wear so we ate with our fingers. Oh well!!
Roster
ODs
Samar Awad, Ken Cottrell, Janet Leasher, Carl Sakovits, Bob and Lila Schwartz, and Nivian Sanchez who again came over from England.
MD
Dr. Stuart Zipper
Opticians
Larry Ulm and Tim Kennedy
SUNY students
Joe Escobar, Adam Gardner, Wm. Ling, Maria Miranda, Ken Smith and Robert Plass (non optometric student)
ICO students
Diane Houtman, Sonal Patel, and Elizabeth Satchell
Support Staff
Marlee Ort, jessica Schwartz, Ada Bello, Darlene Boch and Rev Johnnie Ross