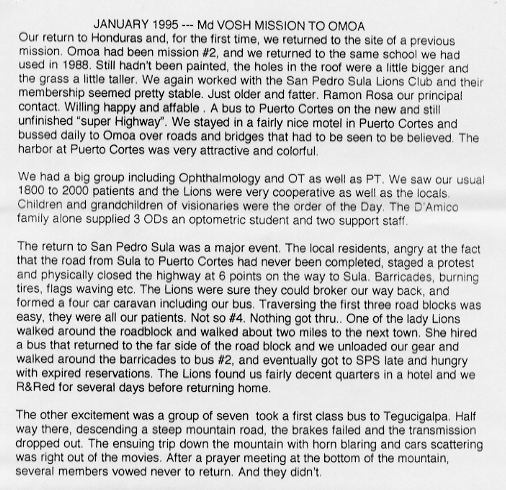 January 1995 -- Host Guatemalan Lions Club & District Governor Alfonzo Barahona. Written by Robert Schwartz, OD
Our return to Honduras and, for the first time, we returned to the site of a previous mission. Omoa had been mission #2, and we returned to the same school we had still used in 1988. Still hadn't been painted, the holes in the roof were a little bigger and the grass a little taller. We again worked with the San Pedro Sula Lions Club and their membership seemed pretty stable. Just older and fatter. Ramon Rosa, our principal contact was willing happy and affable. A bus to Puerto Cortes on the new and still unfinished "Super Highway". We stayed in a fairly nice motel in Puerto Cortes and bused daily to Omoa over roads and bridges that had to be seen to be believed. The harbor at Puerto Cortes was very attractive and colorful.
We had a big group including Ophthalmology and OT as well as PT. We saw our usual 1800 to 2000 patients and the Lions were very cooperative as well as the locals. Children and grandchildren of visionaries were the order of the day. The D'Amico family alone supplied 3 ODs, an optometric student and two support staff.
The return to San Pedro Sula was a major event. The local residents, angry at the fact that the road from Sula to Puerto Cortes had never been completed, staged a protest and physically closed the highway at 6 points on the way to Sula. Barricades, burning tires, flags waving etc. The Lions were sure they could broker our way back, and formed a four car caravan including our bus. Traversing the first three road blocks was easy, they were all our patients. Not so #4 Nothing got through. One of the lady Lions walked around the roadblock and walked about two miles to the next town. She hired a bus that returned to the far side of the road block and we unloaded our gear and walked around the barricades to bus #2, and eventually got to SPS late and hungry with expired reservations. The Lions found us fairly decent quarters in a hotel and we R&Red for several days before returning home.
The other excitement was a group of seven took a first class bus to Tegucigalpa. Half way there, descending a steep mountain road, the brakes failed and the transmission dropped out. The ensuing trip down the mountain with horn blaring and cars scattering was right out of the movies. After a prayer meeting at the bottom of the mountain, sevral members vowed never to return. And they didn't.
Roster
ODs
Ken Cottrell, Joe D'Amico, Spencer Moy, Tim O'Connor, Jennifer D. O'Connor, Greg Rios, Carl Sakovits, Lila Schwartz, Bob Schwartz
Opticians
Ellen Collister, Ted Collister, Larry Ulm, Marty Fair
Therapists
Julie Belkin, mary Martin, Terry Starrett RN, Lori Glumac
SUNY students
Caroline Harrison, Peter O'Connor, Nancy Kwan, Marla Miranda, Lina Escobar, William Ling
Medical
John Creamer MD
Support Staff
Ada Bello, Hilda Corak, Zabelle D'Amico, Doris DeAngelis, Lisa Collister, Anisa Cottrell, Esther DiMonte, Melissa O'Connor, Diane Grant, Waalter Jacobs, Matthew Keats