1994 San Cristobal Verapaz, Guatemala
San Cristobal Verapaz, Guatemala 1994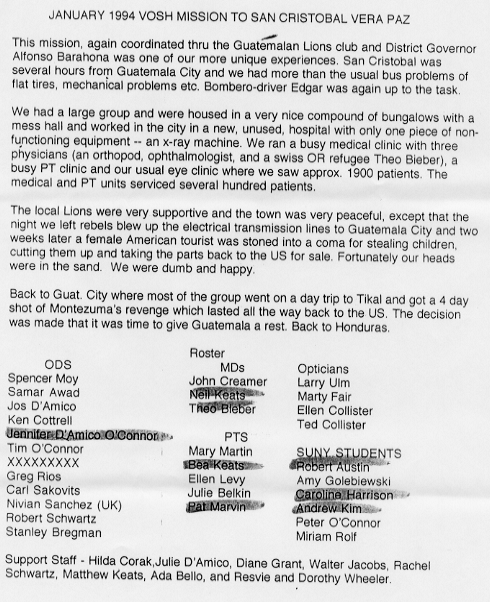 January 1994 -- Host Guatemalan Lions Club & District Governor Alfonzo Barahona. Written by Robert Schwartz, OD
This Mission, again coordinated through the Guatemalan Lions Club and District Governor Alfonzo Barahona was one of our more unique experiences. San Cristobal was several hours from Guatemala City and we had more than the usual bus problems of flat tires, mechanical problems etc. Bombero driver Edgar was again up to the task.
We had a large group and were housed in a very nice compound of bungalows with a mess hall and worked in the city in a new, unused, hospital with only one piece of non-functioning equipment -- and x-ray machine. We ran a busy medical clinic with three physicians (and orthopod, ophthalmologist, and Swiss OR refugee Theo Bieber), a busy PT clinic and our usual eye clinic where we saw approx. 1900 patients. The medical and PT units services several hundred patients.
The local Lions were very supportive and the town was very peaceful, except that the night we left rebels blew up the electrical transmission lines to Guatemala City and two weeks later a female American tourist was stoned into a coma for stealing children, cutting them up and taking the parts back to the US for sale. Fortunately our heads were in the sand. We were dumb and happy.
Back to Guat. City where most of the group went on a day trip to Tikal and got a 4 day shot of Montezuma's revenge which lasted all the way back to the US. The decision was made that it was time to give Guatemala a rest. Back to Honduras.
Roster
ODs
Spencer Moy, Samar Awad, Jos D'Amico, Ken Cottrell, Jennifer D'Amico O'Connor, Tim O'Connor, Greg Rios, Carl Sakovits, Nivian Sanchez (UK), Robert Schwartz, Stanley Bregman
MDs
John Creamer, Neil Keats, Theo Bieber
PTs
Mary Martin, Bea Keats, Ellen Levy, Julie Belkin, Pat Marvin
Opticians
Larry Ulm, Marty Fair, Ellen Collister, Ted Collister
SUNY students
Robert Austin, Amy Golebiewski, Caroline Harrison, Andrew Kim, Peter O'Connor, Miriam Rolf
Support Staff
Hilda Corak, Julie D'Amico, Diane Grant, Walter Jacobs, Rachel Schwartz, Matthew Keats, Ada Bello, and Resvie and Dorothy Wheeler.