1992 Chimeltenango, Guatemala
Chimeltenango, Guatemala 1992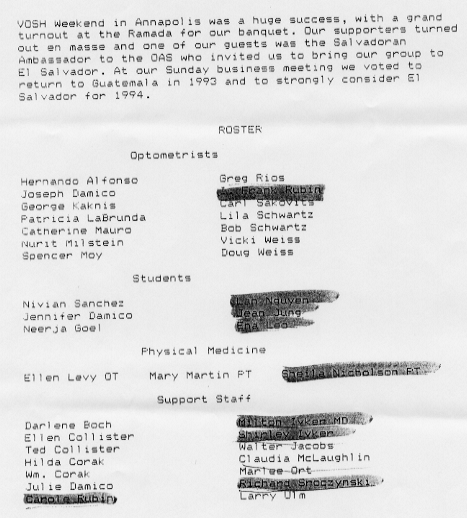 January 20 - 25, 1992 -- Host Guatemala Lions Clubs. Written by Robert Schwartz, OD
1992 (year six) was a boomer. 14 Optometrists, 6 students, 14 support staff, plus 3 Occupational and Physical Therapists. 37 total. This growth eventually led to a 1993 miscalculation.
This year TACA performed like a clock and visionaries and supplies arrived on the same airplane. Lila and Bob Schwartz and the Collisters had arrived 2 days earlier to collect and organize the Rxs left behind in 1991 with Rick Myrick. Our host was Lions District Gov. Alfonso Barahona, who had organized 2 lions Clubs and a Lioness Club for duty in Chimeltenango. Gov. Barahona had attended the Glen Burnie Md. Lions Club Charter Night in October and during our mission worked tirelessly in the dispensary.
Chimeltenango is a mid-sized crossroad town in central Guatemala and our site was a small trade school building built as a quadrangle. It was a tight fit, but we shoehorned everyone in and got pretty good patient flow. Our tables were treadle sewing machines and we had 15 examiners going constantly in one long room. Two students worked in the dispensary at all times.
Despite the cramped quarters we examined over 2400 patients in 5 days. The fifth day was for the financial benefit of Habitat for Humanity who had a global village work camp in Xela. We raised enough money on the fifth day to fund a HFH cinderblock house in Xela. All fees raised on day 5 went to HFH. The Lions also donated in kind.
Our Physical Medicine Group had their usual wonderful clinic, treating over 150 patients They ran out of supplies after 2 days and went into local hospitals to lecture. They add tremendous prestige to our group.
We were housed in Antigua and bussed daily to the clinic (35 minutes). The Bomberos supplied a bus and driver Edgar Estrada to the Lions. All in all we had 70 people working. Our day started on the bus at 7 and we returned at 6:30. Not much time to enjoy Antigua, and there was some grumbling to the effect that our digs were pretty plush for a mission. We addressed that complaint in 1993. Five continuous days were tough especially with and hour of travel daily. On our last day, the municipality of Chimeltenango sent a marimba band to entertain us as we worked. Of course they all wanted their eyes examined.
1992 Summer Reunion
VOSH Weekend in Annapolis was a huge success, with a grand turnout at the Ramada for our banquet. Our supporters turned out en masse and one of our guests was the Salvadorean Ambassador to the OAS who invited us to bring our group to El Salvador. At our Sunday business meeting we voted to return to Guatemala in 1993 and to strongly consider El Salvador for 1994.
Mission Roster
Hernando Alfonso
Joseph D'amico
Deorge Kaknis
Patricia La Brunda
Catherine Mauro
Nurit Milstein
Spencer Moy
Greg Rios
Frank Rubin
Carl Sakovits
Lila Schwartz
Bob Schwartz
Vicki Weiss
Doug Weiss
Hernando Alfonso
Students
Nivian Sanchez
Jennifer Damico
Neerja Goel
Lan Nguyen
Jean Jung
Ena Leo
Physical Medicine
Ellen Levy OT
Mary Martin PT
Sheila Nicholson PT
Support Staff
Darlene Boch
Ellen Collister
Ted Collister
Hilda Corak
Wm. Corak
Julie Damico
Carola Rubin
Milton Ikver MD
Shirly Ivker
Walter Jacobs
Claudia McLaughlin
Marlee Ort
Richard Sroqzynki
Larry Ulm