1989 San Manuel & Roatan, Honduras
San Manuel & Roatan, Honduras 1989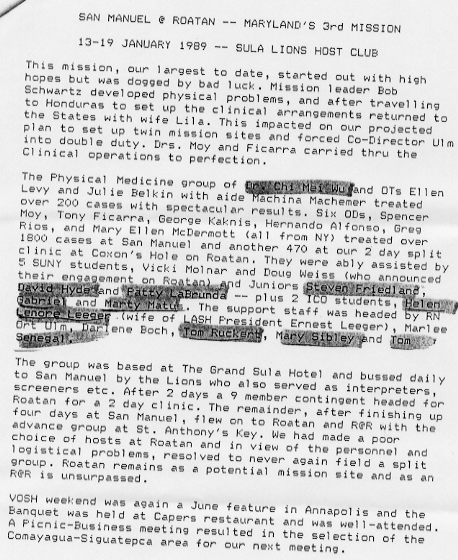 13 - 19 January 1989 -- Sula Lions Host Club. Written by Robert Schwartz, OD
This mission, our largest to date, started out with high hopes but was dogged by bad luck. Mission leader Bob Schwartz developed physical problems, and after travelling to Honduras to set up the clinical arrangements returned to the States with wife Lila. This impacted on our projected plan to set up twin mission sites and forced Co-Director Ulm into double duty. Drs. Moy and Ficarra carried through the Clinical operations to perfection.
The Physical Medicine group of Dr. Chi Mei Wu and OTs Ellen Levy and Julie Belkin with aide Machina Machemer treated over 200 cases with spectacular results. Six ODs, Spencer Noy, Tony Ficarra, George Kaknis, Hernanado Alfonso, Greg Rios, and Mary Ellen McDermott (all from NY) treated over 1800 cases at San Manuel and another 470 at our 2 day split clinic at Coxon Hole on Roatan. They were ably assisted by 5 SUNY students, Vicki Molnar and Doug Weiss (who announced their engagement on Roatan) and Juniors Steven Friedland, David Hyde and Patty LaBrunda -- plus 2 ICO students, Helen Gabriel and Marty Matu. The support staff was headed by RN Lenore Leeger (wife of LASH president Ernest Leeger), Marlee Ort Ulm, Darlene Boch, Tom Ruckert, Mary Sibley and Tom Senegal.
The group was based at the Grand Sula Hotel and bussed daily to San Manuel by the Lions who also served as interpreters, screeners, etc. After 2 days a 9 member contingent headed for Roatan for a 2 day clinic. The remainder, after finishing up four days at San Manuel, flew on to Roatan, and R&R with the advance group at St. Anthony's Key. We had made a poor choice of hosts at Roatan and in view of the personnel and logistical problems, resolved to never again field a split group. Roatan remains as a potential mission site and as an R&R in unsurpassed.
VOSH weekend was again a June feature in Annapolis and the banquet was held at Capers restaurant and was well attended. A Picnic - Business Meeting resulted in the selection of the Comayagua - Siguatepca area for our next meeting.