1987 Santa Rosa de Copan, Honduras
SANTA ROSA DE COPAN, HONDURAS 1987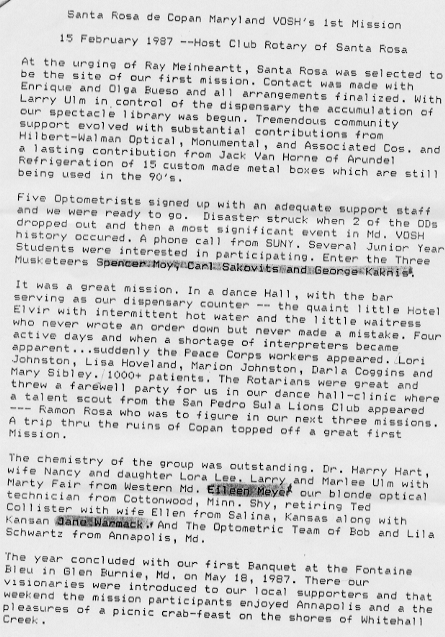 It all started when...
15 February 1987 -- Club Rotary of Santa Rosa
written by Robert Schwartz OD
At the urging of Ray Meinheart, Santa Rosa was selected to be the site of our first mission. Contact was made with Enrique and Olga Bueso and all arrangements finalized. With Larry Ulm in control of the dispensary the accumulation or spectacle library was begun Tremendous community support evolved with substantial contributions from Hilbert-Walman Optical, Monumental, and Associated Cos. And a long lasting contribution from Jack Van Horne of Arundel Refrigeration of 15 custom made metal boxes which are still being used in the 1990s.
Five optometrists signed up with an adequate support staff and we were ready to go. Disaster struck when 2 of the ODs dropped out and then a most significant event in MD. VOSH history occurred. A phone call from SUNY. Several junior year students were interested in participating. Enter the three musketeers Spencer Moy, Carl Sakovits and George Kaknis.
It was a great mission. In the dance hall, with the bar serving as our dispensing counter -- the quaint little Hotel Elvir with intermittent hot water and the little waitress who never wrote and order down but never made a mistake. Four active days and when a shortage of interpreters became apparent... Suddenly the Peace Corps workers appeared. Lori Johnston, Lisa Hoveland, Marion Johnston, Darla Coggins and Mary Sibley. 1000+ patients. The Rotarians were great and threw a farewell party for us in our dance hall - clinic where a talent scout from the San Pedro Sula Lions Club appeared -- Ramon Rosa who was to figure in our next three missions. A trip through the ruins of Copan topped off a great first Mission.
The Chemistry of the group was outstanding. Dr. Harry Hart, wife Nancy and daughter Lora Lee. Larry and Marlee Ulm with Marty Fair from Western Md. Eileen Meyer, our blond optical technician from Cottonwood, Minn. Shy, retiring Ted Collister with wife Ellen from Salina, Kansas along with Kansan Jane Warmack. And the Optometric team of Bob and Lila Schwartz from Annapolis, MD.
The year concluded with our first banquet at the Fontaine Bleu in Glen Burnie, MD. on May 18 1987. There our visionaries were introduced to our local supporters and that weekend the mission participants enjoyed Annapolis and the pleasures of a picnic crab-feast on the shores of Whitehall Creek.